Frequently Asked Questions
The Complete guide To Buying A Carport
Our team of experts at Norcal Carports has put together a list of frequently asked questions about steel carports and buildings.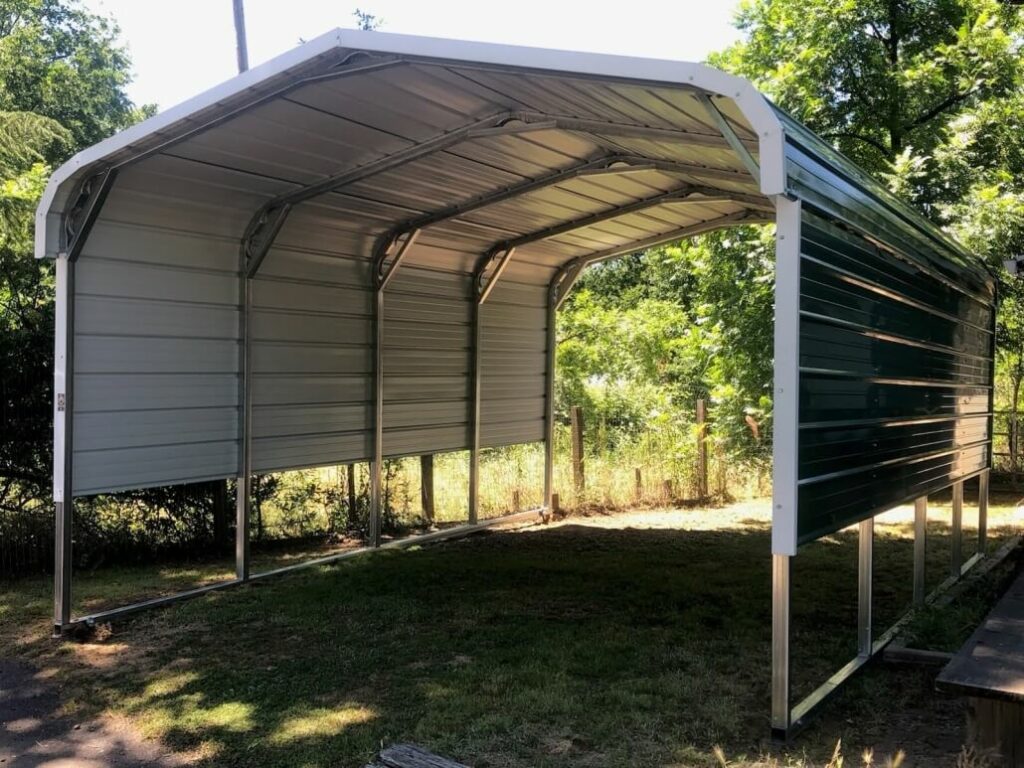 Our team of experts at Norcal Carports has put together a list of frequently asked questions about the advantages of steel carports and buildings.
Know the specifications of the installation area so the buildings fit perfectly.
Check with your local building code enforcer to see whether you need a special permit before you build. Purchase from a dealer that has the expertise needed to know what you will need before you hit the buy button.
Consider if you will need additional add-ons like mobile home anchors or trusses to secure your building properly.
Vertical style roofs offer the best protection from weather and snow.
Every carport and metal building manufacturer we work with offer strong steel poles for leg height, walls, and roof, galvanized steel carport covers for cars and RV's.
The strongest frame is 12-gauge (2 1//4″ x 2 1/4″) and is backed by a 20 year rust-through warranty and 100-mph wind rate warranty.
We recommend choosing the vertical A-frame for the strongest reinforcement and water displacement.
At the time of placing an order, please note that custom orders are not eligible for a refund. However, if you have ordered a standard size item and would like to return it, you may do so within the initial 30-day period from the date of your deposit payment. It is important to understand that any custom orders are personalized to your specific requirements, and thus cannot be resold to other customers. 
We encourage our customers to fully plan out their build with Norcal Carports. Once you have placed your order and paid the deposit, the manufacturing begins on your structure. The deposit is non-refundable if you cancel your order before it is installed but you will not have to pay the remaining balance.
Installing concrete is not mandatory but recommended.
It is recommended you use an exact concrete for enclosed base to ensure maximum stability and to prevent leaks. L-brackets are recommended to tighten the bottom of the frame to the foundation and reduce gaps.
Our manufacturer can install it on dirt and asphalt using mobile-home anchors or asphalt anchors.
However; the location of installation MUST be level upon arrival otherwise our installers will not install your unit.
The manufacturer is not responsible for "day-loss work".
In addition, a $350.00 restocking fee will be added to your bill for a return trip.
We do not do any concrete foundation work but can recommend a concrete installer you can request an estimate from.
If your base foundation is compacted or loose dirt, you will need mobile home anchors to securely fasten it to the ground. If you decline
The auger anchors will ensure a certified steel carport or building.
These will be driven into the dirt and fastened tightly to the frame.
We recommend using an exact concrete base for any type of carport or building design.
Yes. When we provide you with a custom quote, we will ask you if you have concrete, gravel, or dirt flooring and if it's leveled flat.
You will need to complete this before the building can be properly installed.
Please contact us before ordering if you have questions or concerns.
Depending on your municipality and the size of your metal structure, you may be required to obtain a building permit from your county.
Advanced plans and calculations are available for an additional cost.
The certified engineer will contact your local building code office and create plans that will be accepted by the agency.
Please contact us if you have questions about how to obtain these permits.
Yes, otherwise the unit will be installed on land "AS IS" and Norcal Carports or our manufacturer is not responsible for any future damage or shifting of the carport due to an unstable foundation.
Our installers will NOT do any groundwork to the land so any groundwork needed must be done before the date of installation.
If the land isn't leveled it will be up to you, the customer, to fill in any gaps left in the bottom of the base rail. In most cases, however; installers will not install your unit and a $350.00 restocking fee/return fee will be added to your order if we have to return once the site is level.
Every metal building order comes with free delivery and installation.
The manufacturer's installation team will install it on your property on the scheduled date
The total and final price is dependent on the manufacturer and dealer contract signed and deposit paid. 
When you place an order for a steel carport or metal building, a 12%-15% deposit is required to begin manufacturing.
The deposit is refundable if the building is not installed due to the manufacturer.
The day your structure is installed, the remaining balance is due.
You can pay with either cash or credit.
10′ x 12′ is the largest standard roll up door. If you need a custom built garage door, please contact us for more information.
You can choose from 16 different colors to make endless variations of your metal buildings.
Choose from barn red, black, burgundy, clay, earth brown, evergreen, pebble beige, pewter gray, quaker grey, rawhide, sandstone, slate blue, and white.
A 30'W x 50'L x 9'H metal building can cost anywhere between $15,500 and $25,000 plus local tax.
A building with multiple garage doors, steel panels, additional wall height, windows, lean-to's, and other accessories will increase the cost.
Most 2-car carports need about 20′ width of space to accommodate two regular-sized vehicles. These structures base price are estimated at $6,500.
Vertical roofs over 30′ has a leak warranty. Anything over 30′ long will not have any roof leak warranty in the classical and box-eve styles. These roofs have a 30-pound snow load and displace water and debris to the sides.
We suggest ordering the vertical-style roofs to ensure your investment lasts as long as possible.
The basic unit 12 x 20 x 6 starts at $2,165
Depending on your requirements, you can add additional components to customize the dimensions
Visa, Mastercard, Discover, checks, cash, and money orders.
Once you get our official quote, you will be required to submit a deposit on every building you order.
Please contact us if you need to explore financing options.
Picking an appropriate size carport, garage, warehouse, sheds, or barn, depends on the size of your vehicle and how much clearance you require around the sides and top. If you need it 12 feet tall in the middle you need 10′ sides to compensate for the 3/12 pitch.
Once you get an official quote from our sales team, and once we get the required 10% down payment, we will need your signature on the contract, the final choices such as color selection for the unit, the installation address, the best phone number(s) to contact you, and the installation dates.
A carport acts as an outdoor cover that will generally will have open sides and ends. It will be used primarily to house one or two vehicles. It's protected on the top from falling branches and other debris. A garage will have enclosed sides and ends and be more secure. It can be insulated, have windows, walk-in doors, roll-up garage doors, and more.
Can you install a carport over gravel?
Yes. You can install a steel carport or garage over gravel. The manufacturer will use augmented mobile home anchors to secure the structure to the foundation.
What are the dimensions of a steel carport?
Generally, carports will range from 12ft wide to 30ft. wide.
The length will run from 10′ length to 60 ft' length.
The height starts at 6′ height to 15′ height.
You can customize these dimensions in many variations to fit your requirements.
What is the maximum height that a steel carport can be?
The maximum height can go up to 20′ height but we will need to ensure you have the proper reinforcements and permits.
How much does a steel carport cost?
The base cost of a carport starts at $2,195. This is a standard 12 x 20 x 6 carport with a classical style roof.
What is galvanized steel?
Galvanized steel is a type of steel that has been coated with a layer of zinc to protect it from corrosion. The galvanization process involves dipping the steel into a molten bath of zinc, which creates a protective layer on the surface of the steel.
The zinc coating provides a barrier against moisture and other elements that can cause rust and corrosion. Galvanized steel is often used in outdoor applications where it will be exposed to the elements, such as fencing, roofing, and outdoor furniture.
In addition to its protective properties, galvanized steel is also known for its durability and strength. It is a popular choice for a wide range of industrial and commercial applications, including construction, automotive manufacturing, and HVAC systems.